Jewelry most often are rings, chains, bead strings, pendants and piercings, worn around or on different body or clothing parts for traditional, social or religious reasons. Body chain, or body necklace was once designed to delineate and polish a shape proportion and has gradually evolved into some most favored ornaments for modern women's outfits. Body chain is now considered as the new jewelry trend.
3 Women Who Wear Body Jewelry to Defend Bodily Autonomy
The body chain has a grand pedigree dating back to ancient times in Paleo-Indian culture and are deemed auspicious for women in Indian culture. However, considering of how these accessories may express femininity, enhanced sexuality by drawing attention to the hips, and serve as a symbol of fertility interpreted by some cultures, it is, to put it mildly, to satiate what we called male gaze today. Whereas, some influential women in history wore these body chains, symbolizing power, strength, and status only to please themselves and justifiably defend bodily autonomy.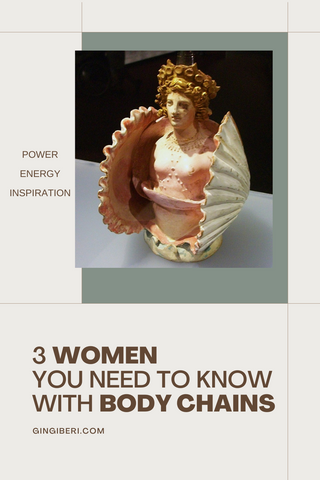 Queen Pu-abi
First Dynasty of Ur 2600BCE:
Instead of just being the wife or daughter to any king, she was the reigning monarch in her own right.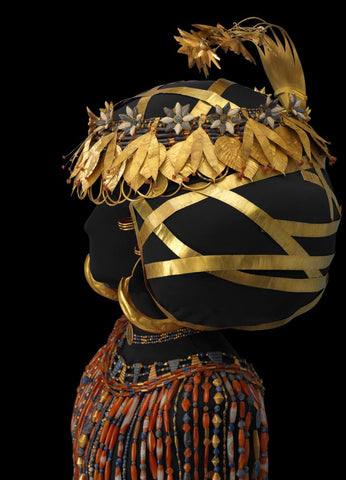 We know her because of her name, her status, her elaborate headdress and splendid cloak of jewelry. She was buried with a total of three cylinder seals which were used for personal identification through carved motif. Presumably historians reasoned the divine right to rule wasn't inherited from her husband, nor her father; but very naturally come to her as a gift from God.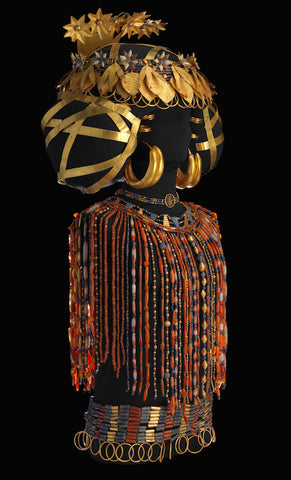 Researches and archeological evidence so far have proved her paramount position by the most exquisite jewelry she wore. She was an important figure among Sumerians, which indicates a high degree of cultural exchange and influence among the ancient Sumerians and their Semitic neighbors.
Aphrodite
Antient Greek 800-146BCE:
Aphrodite was the ancient Greek goddess of love, beauty, desire, and all aspects of sexuality.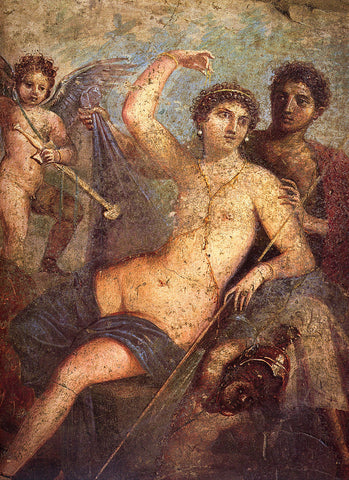 Aphrodite was the ancient Greek goddess of sexual love and beauty, identified with Venus by the Romans. She was known primarily as a goddess of love and fertility and occasionally presided over marriage.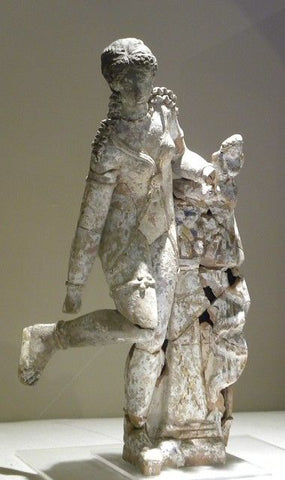 Worshipped by men, women, and city-state officials, Aphrodite also played a role in the commerce, warfare, and even being honored as a goddess of war, especially at places including Sparta, Thebes, Cyprus. She had wide significance in politics of ancient Greek cities. Additionally, Aphrodite was honored as the goddess of the sea and of seafaring to protect those who travelled by sea and, less surprisingly, courtesans and prostitutes.  
Some well-preserved frescoes and sculptures all demonstrated those elegant and exquisite gold body necklace that she wore.
Theodora
Byzantine empress 500C
With all her dedication in these legal reforms which were not being recorded, Procopius, a byzantine historian, mentioned that she was naturally inclined to assist women in misfortune.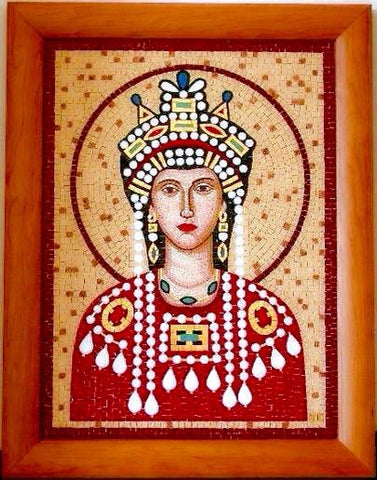 Theodora became the empress upon Justinian's accession in 527 and was one of his chief advisers. With Theodora's efforts, Justinian's legislations expanded the rights of women in divorce and property ownership, instituted the death penalty for rape, gave mothers guardianship rights over their children.
She created her own centers of power, immersed herself in every corner of politics to have a say for underprivileged women and girls who had been sold into prostitution. Theodora was reputed to be the one who freed the girls from the yoke of their wretched slavery and put an end to the prostitution of women.
The famous Nika of Sassi Fine Jewelry line is inspired by a jewel that might have belonged to Theodora and the event of the attack of the royal palace in 532.
Body jewelry, especially headgear necklace at one time was the symbol of feminine power, status, independence as well as freedom. These three influential women in the historical endless flow proved the rotten rituals, karma, eternity bondage are never what tie achievements. They are the van of civilization, the master who rule over their own body, write the destiny of history.
Why body jewelry?
Then how can we internalize this kind of feminine power nowadays where discomfort about sexual harassment and abuse as well as women trafficking that overwhelmed us all the time?
"Body shaming", "waist to hip ratio", are supposed to be abandoned in this current world, what we do now, is to embrace our own healthy bodies, accept the way we are, and acquire energy from what are not to be judged. "To be loud about being comfortable", quote Florence Pugh. Let us all find power in the creases of our own body when no one has the right to expect it to morph into an opinion of what's hot or sexually attractive.
That is exactly what the modern body chain impresses us, breaking antiquated body taboos and as more celebrities publicly transcend the gender binary and body shape convention, beauty standards are thankfully broadening.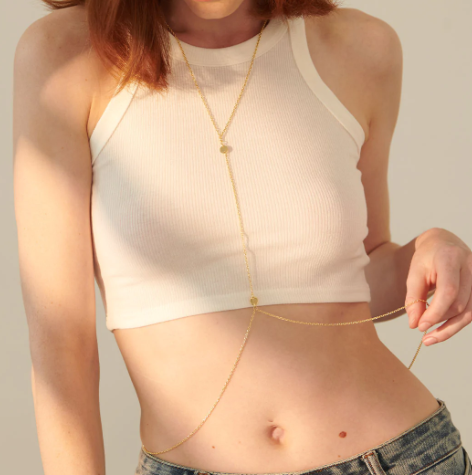 All body shapes are perfect. The body chain once galvanized power, status, and independence; while it is now the symbol of confidence, bravery and freedom. It represents an astonishing "upheaval" in fashion industry and becomes extraordinarily popular among celebrities, designers, catwalk show. Body chain is deservedly in a hot demand and being churned out by every label; it is now something of a real hit.
Outfit inspiration with body chain
It would be remiss of us if you cast around desperately simply for safe daily outfit ideas in summer when the season is implicitly for bikini, hip-hugger, backless costume rocking with body chains. You may find inspiration from body jewelry that will definitely add vitality to your everyday outfits.
The outfits we show here are posted on some influencers and celebrities' Instagram feeds.
Everyday Relaxed Girl: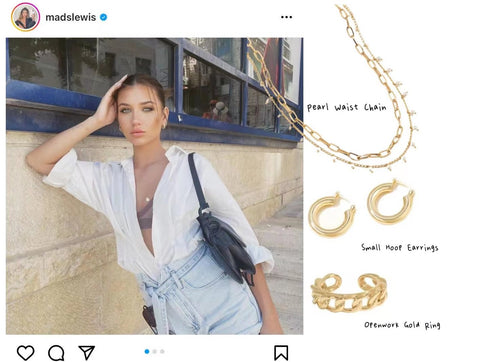 Tired of dressing up? We all sometimes simply need a dose of solitude without makeup, hair style, Instagram fancy lifestyle, but only dream about paddling around with slippers and oversized T-shirts or plain tank tops. Trust me, you will need a piece of waist or chest chain to fit those cozy casual days on your ways to get some ice-creams and fresh sunshine!
Concert Queen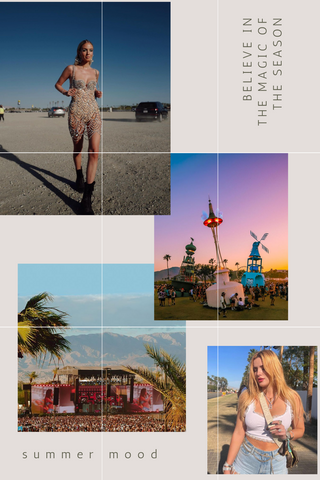 Come on! Summer is for falling in love, totally infatuated with stupid but irreplaceable crush, melting yourselves into crowds, possibilities and musical festivals. You've got to have a piece of body chain jewelry to match your hot summer party outfit!
Miss Miami: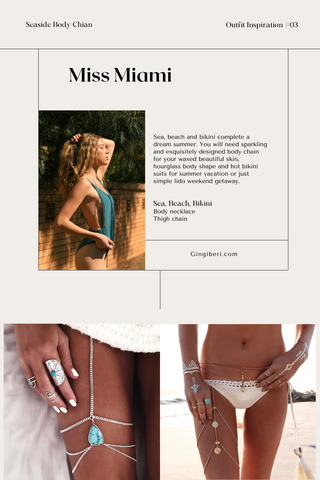 Sea, beach and bikini complete a dream summer. You will need sparkling and exquisitely designed body chain for your waxed beautiful skin, hourglass body shape and hot bikini suits for summer vacation or just simple lido weekend getaway.
Office Elegant Lady: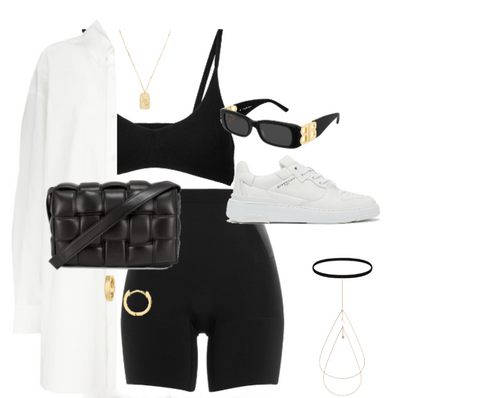 It is time to break office stereotypes with heavy high heels and dull black and white business suit. Some elegant style jewelry may give a sense of spirituality and encourage creativity, I mean, a world of complexities, why so serious?